Kibale forest national park has one of Uganda's most magnificent tropical rain forest and the most rewarding areas to explore. About 13 primate species can be found here including the chimpanzees, Monkeys, Mangabay and many more.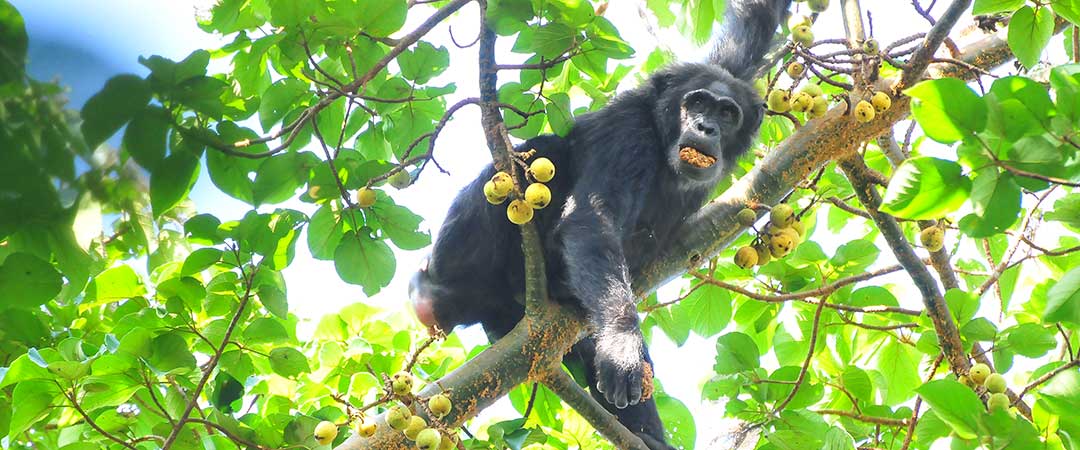 Kibale forest national park is situated ideally in the heart of the Tooro Kingdom in western Uganda, near Fort portal and lies close to the tranquil Ndali- Kasenda crater area and is within a half days' drive of Queen Elizabeth, Rwenzori Mountains and Semiliki National Parks. The park became a government Forest Reserve in the early 1940s. The park can be visited anytime of the year and has an annual temperature range of 14° -27°C.
The major attraction in this park are the Chimpanzees – human's closest living relatives and can be seen swinging on the tree branches as one treks through the forest trails. Kibale national park currently has the highest density of primates in Africa and also known as the primate capital of the world. With a population of about 1450 chimpanzees – Uganda's largest number of this endangered species.
Kibale forest national park also boosts of over 300 bird species and other mammals like the elusive forest elephants, buffaloes, giant forest hogs and half a dozen antelope species; thereby making it one of the most stunning parks in Uganda.
WHAT TO DO IN KIBALE FOREST NATIONAL PARK
CHIMPANZEE HABITUATION EXPERIENCE
The Chimpanzee Habituation Experience (CHEX) allows you to accompany Kibale's researchers and habituators as they follow chimpanzees during their daily life activity & getting them used to human presence without altering their natural behavior. This is an all day and early visitors may be able to see the spectacular scene of chimps de-nesting, feeding, copulating, hunting, breast feeding, resting, patrolling and displaying until they build new nests and retire for the night around 7.00 pm. However, advance booking for the habituation experience is essential since the permits are always limited for a particular day.
CHIMPANZEE TRACKING
Another amazing experience for visitors in Uganda is the chimpanzee tracking. Currently available for adults and children above 12 years. Visitors can get to experience and participate in the chimpanzee tracking which starts from the Kanyanchu Visitor Centre in Kibale at 08:00 am and 02: 00 pm and lasts 2-3 hours. The Park guides are readily available to take tourists through this ritual. The chimp walk is for six persons per group and advance booking is essential since permits have to be gotten in advance. Once you get to see the chimps, get ready with your cameras to take enough pictures.
DAY HIKES/NATURE WALKS
The Nature walks will make you explore Kibale forest park's diverse habitats providing very close contact with nature. The nature walks begin in the morning at 08:00 am, 10:00am or in the afternoon at 2.00 pm from Kanyanchu Tourist Centre and take about 2 – 3 hours. Once here, remind your tour guide to show you the naked Adam and Eve tree – one of Kibale Forest's unique wonders.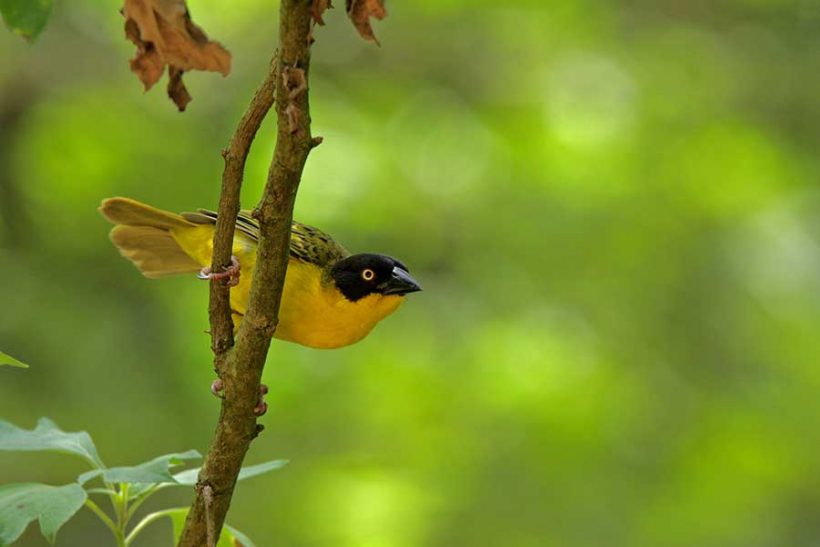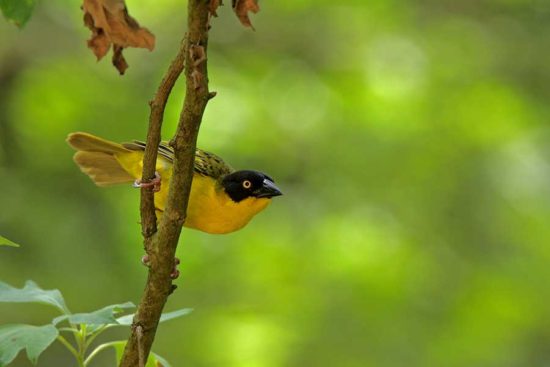 BIRD WATCHING / BIRDING
Kibale National Park boasts of 372 bird species of which 60 percent are recorded Uganda's Forest Birds. Bird watchers can spot various species of these birds as they enjoy the various activities in the park. Also there is night nature walk which allows visitors to track the unique species of birds, animals and insects such as Bat, Owl, Pottos, bush babies, Civets, genet cats and Eastern needle nailed; that are most active at night.
CULTURAL HERITAGE AND NATURE TRAIL
Follow a 2-6 days cultural heritage and nature trail through the tropical forest and meet local people and gain insights into their cultures. The full walk can start or end at either Kanyanchu or Sebitoli. Explore the forest during the day, end for a rest at the community –run campsites near the villages of Kinoni, Nyaibanda and Nyakalongo. Porters can be hired to carry equipment. The walk is most exciting in groups of up to 6 people. (Note: Pre-booking is essential)
How to get to Kibale forest national park
The 795 sq km Kibale national park can be accessed from Uganda's capital, Kampala along a newly surfaced road via Kasese (near Queen Elizabeth National Park). The park can also be reached from Kampala via Mubende and Fort Portal or through Mbarara and Kamwenge.
Kibale National Park has access to two Airstrips; Nyakisharara Airstrip in Mbarara (about 98km through Kamwenge from Kanyanchu) and Kasese air strip, 75km from Fort Portal town. It can also be reached from the airstrip in Tooro/Semliki Wildlife Reserve, only 86 km from Kanyanchu. Chartered flights can be arranged before the tour with a travel agent.
A Map of Kibale National Park