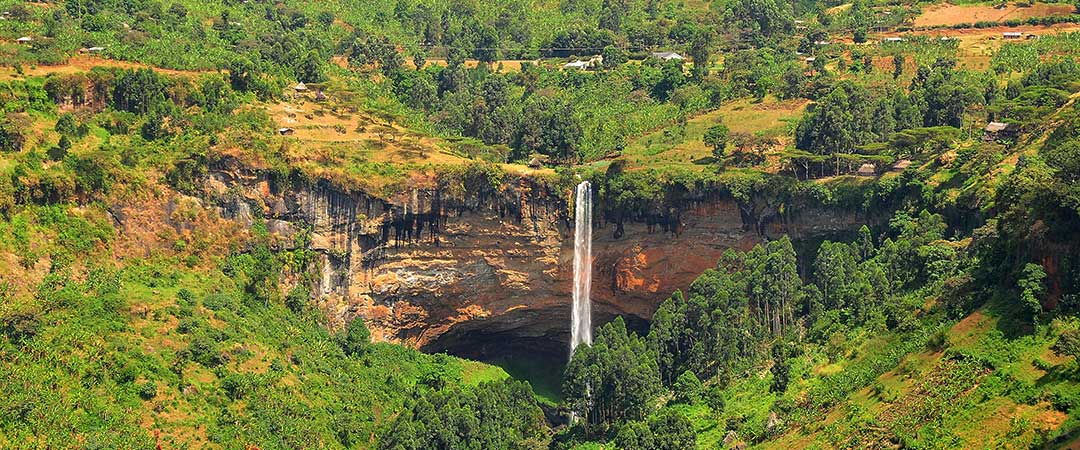 Mount Elgon at 4000km2 has the largest volcanic base in the world and is a massive solitary volcanic mountain on the border of eastern Uganda and western Kenya. Its vast form, 80km in diameter, rises 3000m above the surrounding plains. Its mountainous regional landscape and cool heights offer respite for humans from the hot plains below and its higher altitudes provide refuge for flora and fauna.
The park is home to over 300 species of birds, including the endangered Lammergeyer. Small antelopes, forest monkeys, elephants and buffalos also live on the mountainside. The higher slopes are protected by national parks in Uganda and Kenya, creating an extensive trans-boundary conservation area which has been declared a UNESCO Man & Biosphere Reserve.
What to do at Mount Elgon National Park
MOUNTAIN CLIMBING
Many travelers find Mt. Elgon an exciting alternative to the more strenuous climbs in East Africa. It has many of the same attractions, with a milder climate and lower elevation, and requires no special equipment or technical experience.
MOUNTAIN BIKING
Mountain biking trails run from Sipi trading centre to Chema hill in Kapchorwa town. It should take 1.5 hours and provides views of various waterfalls
BIRDING
Excellent birding opportunities exist around Kapkwai Forest Exploration Centre, in particular in the secondary forest and thick shrub along the loop trail to Cheptui Falls. It supports the African Goshawk; Chubb's Cisticola, White-chinned Prinia and African Blue Flycatcher among others.
HIKING
Lucky hikers in Mt Elgon will enjoy being amongst the parks primates, birds and rare tree species. Trails lead past caves, viewpoints and waterfalls, with the option of camping overnight on the mountain slopes.
NATURE WALKS
Enjoy views of Sipi Falls, the Walls of Death and the African sunrise across the Karamoja plains on these peaceful walks just outside Mt Elgon National Park.
ROCK CLIMBING
Rock climbing takes place outside the park at Sipi. There are 14 routes requiring various levels of rock scaling techniques. The toughest is a 35m climb while the easiest is 15m.
SPORT FISHING
Sport fishing is done above the highest of the three waterfalls at Sipi. It provides exciting challenges to anglers who take pride in battling with the rainbow trout because of its beautiful coloration and fighting ability.
CULTURAL ENCOUNTERS
Find out where your coffee comes from! Grown on the mountain side of Mt Elgon is Arabica coffee also named Sipi or Bugisu by the farmers who have a reputation for producing some of the finest washed Arabica in Kenya and Uganda.
HOW TO GET THERE
Mount Elgon National Park lies 235km east of Kampala. A tarmac road runs through Jinja to Mbale town at the western base of Mount Elgon, before climbing to Kapchorwa on the mountain's north-western flank. Dirt roads lead off the Mbale – Kapchorwa road to reach the various trailheads.