Mount Kilimanjaro National park – one of Africa's magnificent sights including the tallest free Standing Mountain at 5896m located in northern Tanzania near Moshi town.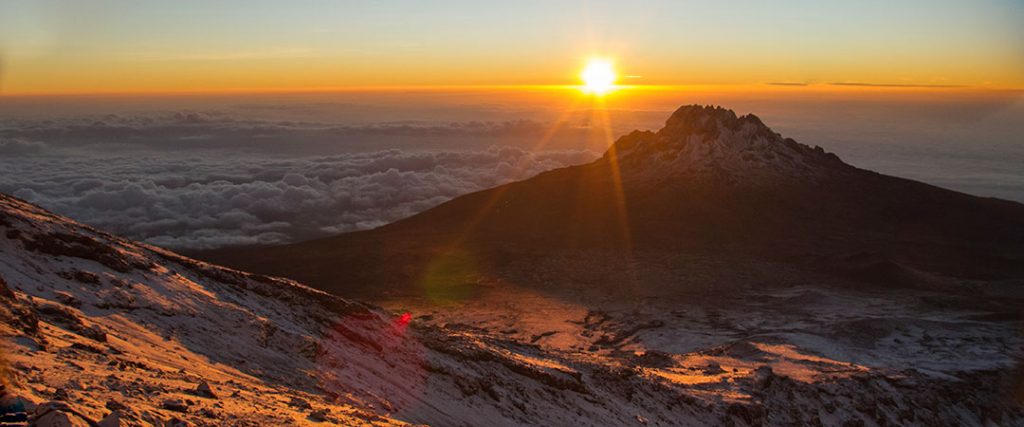 Mount Kilimanjaro has three main volcanic peaks, Kibo, Mawenzi, and Shira. The name itself "Kilimanjaro" is a mystery wreathed in clouds. It might mean Mountain of Light, Mountain of Greatness or Mountain of Caravans.
In 1910 Kilimanjaro National Park was declared as a game reserve and a forest reserve in 1921 before being gazetted as a national park in 1973. It was not until 1977 when Kilimanjaro national park was opened for public access. The park was declared by UNESCO as a world heritage site in 1987 and voted as one of the Seven Natural Wonders of Africa in 2013. Kilimanjaro is located in Northern Tanzania 48 km from Moshi town and covers an area of 1,668 square km.
Above the gently rolling hills and plateau of northern Tanzania rises the snowy peak of Mt. Kilimanjaro, its slopes and glaciers shimmering above the rising clouds. Kilimanjaro national park is located near the town of Moshi and is a protected area, carefully regulated for climbers to enjoy without leaving a trace of their presence. The mountain's ecosystems are as strikingly beautiful as they are varied and diverse. On the lowland slopes, much of the mountain is farmland, with coffee, banana, cassava, and maize crops grown for subsistence and cash sale. A few larger coffee farms still exist on the lower slopes, but much of the area outside the national park has been subdivided into small plots. Once inside Kilimanjaro national park, thick lowland forest covers the lower altitudes and breaks into alpine meadows once the air begins to thin. Near the peak, the landscape is harsh and barren, with rocks and ice the predominant features above a breathtaking African view.
Climbing Mount Kilimanjaro is the highlight of most safari experiences in Tanzania. Few mountains can claim the grandeur, the breathtaking views of Amboseli National Park in Kenya, the Rift Valley, and the Masaai Steppe, that belongs to Kilimanjaro. Hiking on the 'rooftop of Africa' — the highest point on the continent at 5896 metres — is the adventure of a lifetime, especially because, if paced well, everyone from seasoned trekkers to first-time enthusiasts can scale the snowy peak.
Kilimanjaro, by any name, is a metaphor for the compelling beauty of East Africa. When you see it, you understand why. Not only is this the highest peak on the African continent; it is also the tallest free-standing mountain in the world, rising in breathtaking isolation from the surrounding coastal scrubland – elevation around 900 metres – to an imperious 5,895 metres (19,336 feet).
Mount Kilimanjaro is one of the world's most accessible high summits, a beacon for visitors from around the world. Most climbers reach the crater rim with little more than a walking stick, proper clothing and determination. And those who reach Uhuru Point, the actual summit, or Gillman's Point on the lip of the crater, will have earned their climbing certificates.
But there is so much more to Kilimanjaro national park than Mountain climbing. The ascent of the slopes is a virtual climatic world tour, from the tropics to the Arctic.
Even before you cross the national park boundary (at the 2,700m contour), the cultivated foot slopes give way to lush montane forest, inhabited by elusive elephant, leopard, buffalo, the endangered Abbot's duiker, and other small antelope and primates. Higher still lies the moorland zone, where a cover of giant heather is studded with otherworldly giant lobelias.
Above 4,000m, a surreal alpine desert supports little life other than a few hardy mosses and lichen. Then, finally, the last vestigial vegetation gives way to a winter wonderland of ice and snow – and the magnificent beauty of the roof of the continent.
What to do in Mount Kilimanjaro National Park
Six usual trekking routes to the summit and other more-demanding mountaineering routes. Day or overnight hikes on the Shira plateau. Nature trails on the lower reaches. Trout fishing. Visit the beautiful Chala crater lake on the mountain's southeastern slopes.
Birding
There are about 179 bird species inhabiting different vegetation zones, thus giving an opportunity to view them in different climatic zones. Birds like White Necked Raven, Lammergeyer and Alpine Chat are commonly seen in high altitude zones.
Camping:
There are 31 camping sites along the seven hiking routes: Off all the camping sites are wilderness with toilets and a park staff house
Mountain climbing
Climbing Mount Kilimanjaro is not just a climb but a journey from the tropics to the Arctic. The higher you climb, the colder it gets with change in vegetation zones. Climb slowly to increase your acclimatization time and maximize your chances of reaching the summit. To avoid altitude sickness, allow a minimum of five nights, preferably even more for the climb. Take your time and enjoy the beauty of the mountain.
Climbing Routes;
Londorosi Route: This is an ascending route located on the western side of the mountain and it comprised of five stations namely Shira I, Shira II, Baranco, Karanga and Barafu. It also offers the chance of using the Northern circuit and Western breach.
Lemosho route: This route is also for ascending located on the western side of the mountain and it comprised of six stations of Mti Mkubwa then join Londorosi route at Shira I.
Machame route: This is an ascending route as well located on the South-West of the mountain and it has five stations namely Machame hut, Shira cave, Baranco, Karanga and Barafu.
Umbwe route: It is an ascending route located on the South-West of the mountain and it has four stations, the Umbwe cave inside the forest belt and the other three after join Machame route at Baranco camp.
Mweka route: This is a descending route located on the southern side of the mountain. It comprised of three stations namely Mweka hut, High camp (Millenium) and Barafu. Visitors form Londorosi, Lemosho, Machame and Umbwe descent using this route
Kilema route: This route is for cycling. It has three stations namely Kilemamchele, Maua and Kibo; it is two way traffic.
Marangu route: This is route is for ascending and descending with provision of huts along the trail. It has three stations namely Mandara, Horombo and Kibo. On the mountain stations, there are toilets, kitchens, dinning and rooms for clients. Advance booking through a licensed mountain tour operator is mandatory.
Rongai Route: It is ascending route with an option of using four or five stations depending on the choice of the climber. Visitors who ascend through this route will descend through Marangu route. Option of four stations includes Simba camp, second cave, third cave and school hut and the second option for five stations is Simba camp, second cave, Kikelelwa, Mawenzi tarn hut and School hut.
Cycling
Kilema route takes you to the highest point in Africa while cycling. This route has three stations of Kilimamchele (9km), Maua 12km and kibo 21km from Kilema gate. Also there is a non-summit bound route/circuits totaling 44.3Km in shira plateau were one can have an itinerary of one to four days depending on their time and budget.
When to go
Clearest and warmest conditions from December to February, but also dry (and colder) from July- September
How to access Kilimanjaro national park
Mount Kilimanjaro national park is located 128 km (80 miles) from Arusha town. It is about one hour's drive from Kilimanjaro airport.
Map of Kilimanjaro National Park