Arusha National Park is such Gem in Tanzania, located in the northern parts filled with rolling grassy hills, Montane forests and the famous Mount Meru.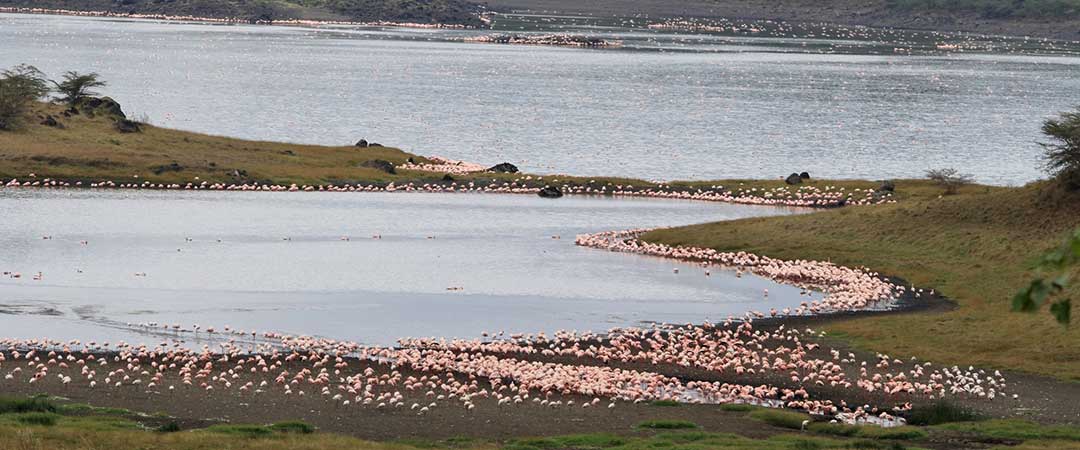 Arusha national park is popular for one day trips which start from the town of Arusha on longer northern circuit safaris. The safari park includes the slopes, summit, ash cone of Mount Meru, Momela Lakes, Ngurdoto crater and the lush highland forests found on the lower slopes. Visitors are able to enjoy game viewing at the Momela Lakes which is quiet place, full of rare species like the colobus monkeys. Another popular activity in Arusha national park is climbing the Mount Meru or enjoying trekking through the smaller trails around the lower slopes. Trekking to the crater's summit is a challenging opportunity for most visitors than climbing the famous nearby peak – Mount Kilimanjaro. Day hikes for visitors are also available for those who would prefer not to go for 3 days trek on Mount Meru. There are many chances to see the ancient fig tree forests, colobus monkeys and crystal clear waters cascading from the Mountain streams.
As you enter Arusha National Park, the gates lead into a shadowy montane forest inhabited by inquisitive blue monkeys and colorful turacos & trogons. This is the onlu place on the northern safari circuit where the acrobatic black-and-white colobus monkey is easily seen. In the midst of the forest stands the spectacular Ngurdoto Crater whose steep, rocky cliffs enclose a wide marshy floor dotted with herds of buffalo and warthog.
Further north, rolling grassy hills enclose the tranquil beauty of the Momela Lakes, each one a different hue of green or blue. Their shallows sometimes tinged pink with thousands of flamingos, the lakes support a rich selection of resident and migrant waterfowl, and shaggy water bucks display their large lyre-shaped horns on the watery fringes. Giraffes glide across the grassy hills, between grazing zebra herds, while pairs of wide-eyed dik-dik dart into scrubby bush like overgrown hares on spindly legs.
Elephants might not be so common like in Tarangire National park but leopards and spotted Hyenas are easily seen during the early morning and afternoon game drives. It is also at dusk and dawn that the veil of cloud on the eastern horizon is most likely to clear, revealing the majestic snow-capped peaks of Kilimanjaro, only 50km (30 miles) distant.
Mount Meru currently the fifth largest in Africa at 4,566 m dominates Arusha national park's horizon. Meru offers unparalleled views if it's famous Neighbor and the peaks plus eastern slopes are protected within the park. This is rewarding hiking destination in East Africa with wooded Savannah where buffaloes and giraffes are frequently encountered.  The ascent of Meru leads into forests a flame with red-hot pokers and dripping with Spanish moss, before reaching high open heath spiked with giant lobelias. Everlasting flowers cling to the alpine desert, as delicately-hoofed klipspringers mark the hike's progress. Astride the craggy summit, Kilimanjaro stands unveiled, blushing in the sunrise.
What To do in Arusha national park
Forest walks, numerous picnic sites; three- or four-day Mt Meru climb – good acclimatization for Kilimanjaro.
Best time to visit to Arusha national park
To climb Mt Meru, June-February although it may rain in November. Best views of Kilimanjaro December-February.
How to access Arusha National Park
Visitors can enjoy an easy drive of 40 minutes to Arusha national park approximately 60 km (35 miles) from Kilimanjaro International Airport. The lakes, forest and Ngurdoto Crater can all be visited in the course of a half-day outing at the beginning or end of their safari.
Map of Arusha National Park