Bwindi Impenetrable forest national park is located in south western Uganda, and known as Uganda's most prestigious and world class tourist destination.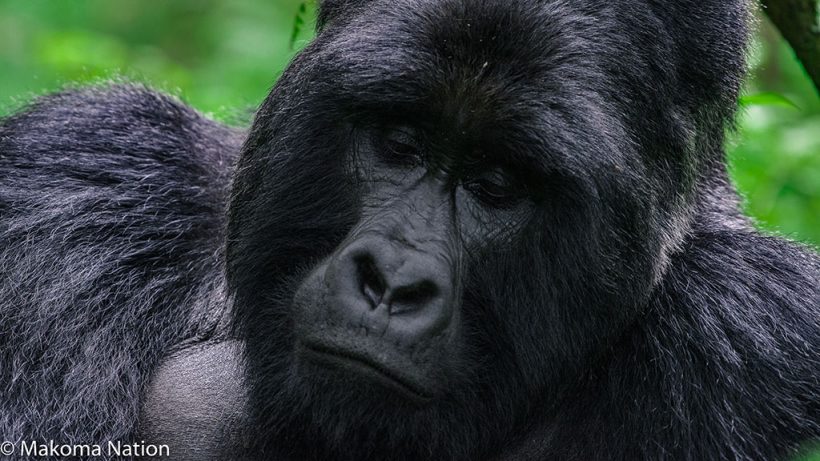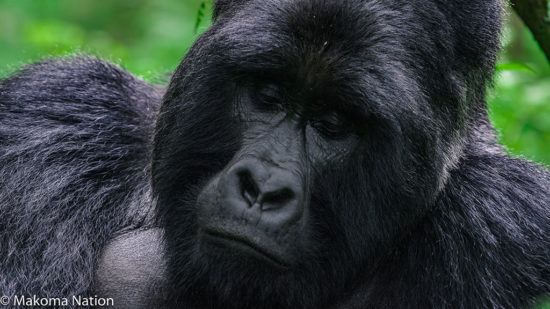 With close to half of the world's remaining mountain gorillas, Bwindi is also recognized as UNESCO world heritage site with 400 plant species. The impenetrable forest lies on the edge of the rift valley in southwestern Uganda, and protects at least 120 species of mammals, 346 species of birds, 202 species of butterflies, 163 species of trees, 100 species of ferns, 27 species of frogs, chameleons, geckos, and many other endangered species.
The main activity in Bwindi forest is gorilla trekking which was started in 1993 at Buhoma but currently also takes place in other three areas in the park i.e Nkuringo, Rushaga and Ruhija. Over 11 habituated gorilla groups are found in Bwindi forest and can be seen all year round – a costly venture but worth it for any traveler. This park is also characterized by a tangled vegetation, steep landscapes with chilly weather or misty covered hillsides.
Attractions in Bwindi Impenetrable forest
Mountain Gorillas
The Mountain gorillas in Bwindi Live in structured groups and there are about 10 habituated Gorilla groups in this forest that can be tracked by tourists. Three of these groups are in Buhoma, then three others in Ruhija and the others are in the southern parts or Rushaga and Nkuringo. Each of these mountain gorilla groups in Bwindi can be tracked by eight tourists and always accompanied by a guide.
Birds
A remarkably high figure of over 350 species of birds are recorded in this impenetrable forest with 23 endemic to Albertine rift such as the short-tailed warbler, sherry's Crimsonwing, African green broadbill and blue headed sunbird. Some of the easiest birds to spot include the African emerald cuckoo, African blue white-tailed flycatchers & Read headed bluebill and they have been recorded nowhere else in Uganda.
Flora & Fauna
Bwindi impenetrable forest is one Africa's most bio-diverse rainforests. Its slopes extend over a broad altitudinal range of 1447m to create habitants ranging from lowland forests to rare Afromontane vegetation. In 1991, the rain forest was gazetted as a national park and protects a true rainforest which receives an annual average rainfall of almost 1,500mm. It's a also a vital catchment area for 5 major rivers that flow into Lake Edward. In 1994, Bwindi forest was listed as a UNESCO world heritage site due to its biodiversity and wealth of IUCN red-listed wildlife. With over 25,000 years, Bwindi's Vegetation has  accumulated a lengthy species list and these include 310 species of butterfly, 88 moths, 120 types of mammals, 51 reptiles and 200 tree species.
Primates
Apart from the mountain gorillas, Bwindi impenetrable forest park boosts of other primate species which include chimpanzees, baboobs, L'hoests monkeys, blue monkeys, Black & white collobus monkeys, red-tailed and the nocturnal bush babies.
Activities in Bwindi Impenetrable forest
Gorilla Tracking
Gorilla tracking is an unforgettable and amazing experience and it's always worth the adventure. With Buhoma being the trailhead, visitors can have a chance to track 3 of the mountain gorilla groups with a silverback. Others can be seen in different parts of the park & the chance for getting to see these gorillas is at 99%. The gorilla tracking experience starts early in the morning at 8am at the park headquarters with a brief and the activity will normally take between 2 to 7 hours depending on how far these gorillas might have moved. It's recommended to be reasonably fit and carry the right gear for this activity since it can be a little challenging. Gorilla tracking permits are booked in advance since there is always a maximum number of tourists to see these gentle giants per day.
Getting to Bwindi Impenetrable forest
By Road
Bwindi Impenetrable forest National Park is located in south western Uganda about 530km from the capital – Kampala. The park can be reached by road from many routes which include:
Via Queen Elizabeth Park (Mweya) to Kihihi to Buhoma; this route passes through Ishasha, the southern part of Queen Elizabeth National Park giving you a chance to see the famous tree climbing lions. Bwindi is 160km away from Mweya and 64km from Ishasha sector.
Visitors to this park can access it through these alternative routes;
Kampala – Kabale – Kanungu – Buhoma (5 – 6 hours journey)
Kampala – Ntungamo – Rukungiri – Kihihi – Buhoma (5 hours journey)
Kabale – Ruhija – Buhoma (5-6 hours journey)
Kampala – Kabale – Nkuringo (6-7 hours journey)
By Air
Travelers can fly from Entebbe international Airport or Kampala (Kajjansi airfield) to the modern tarmac airstrip at Kisoro town. Visitors to Buhoma can also fly to Kayonza (near Butogota) or Savannah (Kihihi) airstrips.
Map of Bwindi impenetrable forest national park