Located 80 km east of Kampala, the historical town of Jinja is a famous place where the journey begins for the World's longest river – the Nile, from a point on Africa's largest Lake – L. Victoria.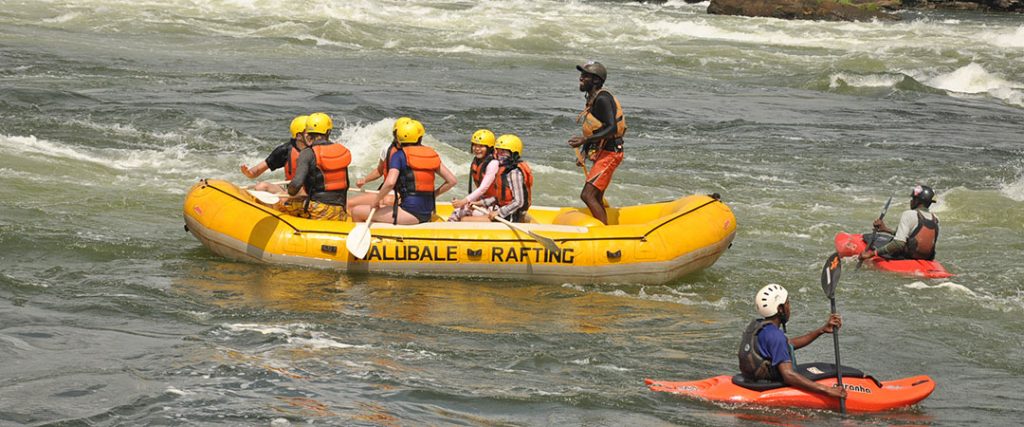 Jinja City
Jinja city is an adventure place set on northern shore of Lake Victoria and the place where the Nile River has its source. The Nile runs through Uganda to Sudan & Eqypt to the Mediterranean Sea. Jinja town was Uganda's second-largest town in the early 1990's but moved down to 14th place in the recent years.
The town is built mostly with Asian architectural buildings which were constructed in the colonial-era. The local tribe in Jinja are called the 'Basoga' who speak the 'Lusoga' language. Jinja is locally known as 'Indindha' but since Uganda is an English speaking country, it's commonly referred to as Jinja city.
The Source of The Nile
The Nile is the one of world's longest river and the longest in Africa with its source at Jinja. Starting at 6,500km, the Nile River flows to the Mediterranean Sea passing through South Sudan, Sudan and Egypt. Several hydro-electric dams have been built along the Nile including the Owen falls Dam in Uganda and others which are still under construction.
Visitors come to see the source of the Nile River in Uganda every year to enjoy a lot of activities like high grade white water rafting, kayaking, bungee jumping, quad biking, fishing etc. So much adventure here and this places provides an awesome focal point to the flow of water from Lake Victoria.  An adventure safari in Jinja, Uganda will obviously include various adrenaline activities offering you a unique way to explore the Nile, river banks, forests and the surrounding villages. The nearby Samuka Island with beautiful fauna is another trip for adventure lovers to explore.
The Nile also flows through one of Uganda's largest & oldest national park – Murchison falls national park. Once here, you can get to enjoy the best game viewing experiences and scenic views of the dramatic Murchison falls. The Victoria Nile is a fantastic spot for visitors to enjoy fishing, birding and awesome boat trips to see wildlife like elephants, hippos, crocodiles and more.
Up to northern Uganda, the Nile River continues and flows through Lake Albert to Sudan & finally Egypt.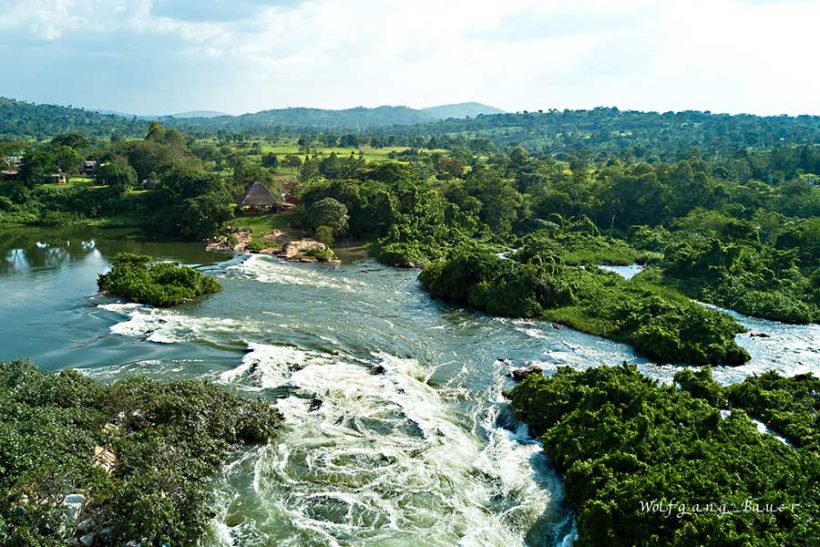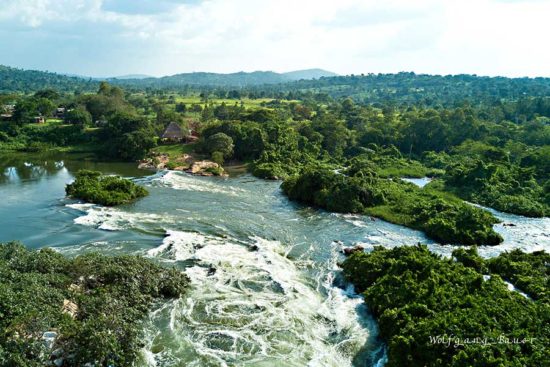 Activities in Jinja
Rafting & Kayaking
Rafting is available on the Nile River and you can enjoy grade 3 and grade 5 white water rafting trips. Also this is another opportunity to see birds and to swim in calm stretches water. You will obviously get wet but the experience of rafting on the Nile at Jinja in Uganda will leave you with memories. Family floats for you and the children are also provided by the rafting companies. Kayaking is a more adventurous activity than rafting and experienced rafters from across the world come here to experience this. Tandem kayaking is available on the Upper Nile for half and full day trips.
Quad biking
The Quad biking experience gets you explore the nearby villages on quad bikes following local footpaths and tracks that will take you some stunning Nile View-points. Daily trips are available starting early morning at 8am to 5am and can be organized by the tour operator. This exhilarating experience will allow you to see some of the finest cultures in the busoga region.
Bungee Jumping
An experience you won't be able correctly explain but rather feel is the bungee jumping experience on the Nile. The 44m high jump will allow you dive into the Nile of course with a safety boat ready to pick you up. Visitors from across all regions have enjoyed this activity and it's available all year long.
Horse riding
Love horses? Well this is another opportunity to explore the Nile river banks. Horseback excursions begin daily at 10 am in the morning and 2:00 pm in the afternoon. Sunset trips can also be organized on request starting at 4:30 pm on Fridays & Saturdays. For experienced riders, longer days/hours can be arranged to explore the further areas like the Nile west bank or Mabira forest. Horse riding safaris for kids is also arranged.
Fishing
Fishing trips on the Nile are so much fun and the most common fish caught include the Nile Perch, yellow fish & cat fish. On the Victoria Nile, spot fishing is a common activity and due to the magnitude of the water, there are chances of getting some big fish. Visitors can arrange through Great Trekkers Safaris to enjoy fishing trips along the Nile in Uganda.
Boat Cruises
One of the best ways to enjoy the Nile is taking a boat trip to see the true source of the Nile. You can also visit a few of the other islands dotted around the Nile. Boat trips can be arranged by the tour operator starting from the Jinja sailing club.
How much is rafting ?
Rafting is an awesome experience and anyone opting for an adventure would love to try this no matter the cost. A full day rafting excursion will cost around US $125 inclusive of return transportation from Kampala or Jinja and buffet lunch. 2 day rafting trips can also be arranged at a cost of US $200 – $240.
How to book for a trip to Jinja
If planning to visit Jinja for the first time, booking can be made through a reputable & recognized tour operator. You can also get an option of adding more days to your trip or visiting other attractions combined with the Jinja trip. The tour operator will also help you book for your accommodation facilities and arrange any other activities you might need to be included on this trip. Longer Safaris which include gorilla trekking or chimpanzee tracking plus the rafting need to be booked for in advance to avoid any surprises of unavailable tracking permits. For visitors who have been to Jinja, taking the local means would be more affordable. The most recommended option would be to book for car hire services with a driver and take a road trip to the adventure capital of east Africa. This allows you to get stop-overs along the way e.g. at Sezibwa falls or Mabira forest which have other amazing activities.
Where to Stay in Jinja?
Jinja has quite a number of hotels and lodges ranging from the budget type to Luxury accommodation. You can book through a tour operator who will then advise on the kind of lodge/hotel you will feel comfortable with. For a budget traveler, you can opt to move around Jinja town as the lodges are easily located and are within the town. Restaurants are also many in this area and if willing to try some local food, don't hesitate to taste the famous Ugandan Rolex. It's made from a mixture of eggs, chapattis, onions, tomatoes and cabbages.
How to get to Jinja
Jinja city is located 80km east of Kampala and 145km southwest of Mbale town. If coming from Kampala – the capital city, it takes about 2 hours or longer if the traffic is heavy. If already planning to go enjoy white water rafting then you will have free transport provided by the rafting companies. Visitors are picked up in Kampala or Entebbe and transferred to Jinja. For tourists, tour companies offered comfortable car hire services and you get to all your destinations accompanies by a guide/driver. Other transport means include Taxis /Matatus (vans) which charge Uganda shillings 10,000/- to 15,000/- equivalent to $3 – 4$. You can board any of these between 6am to 9am in the morning from the new taxi park in Kampala.