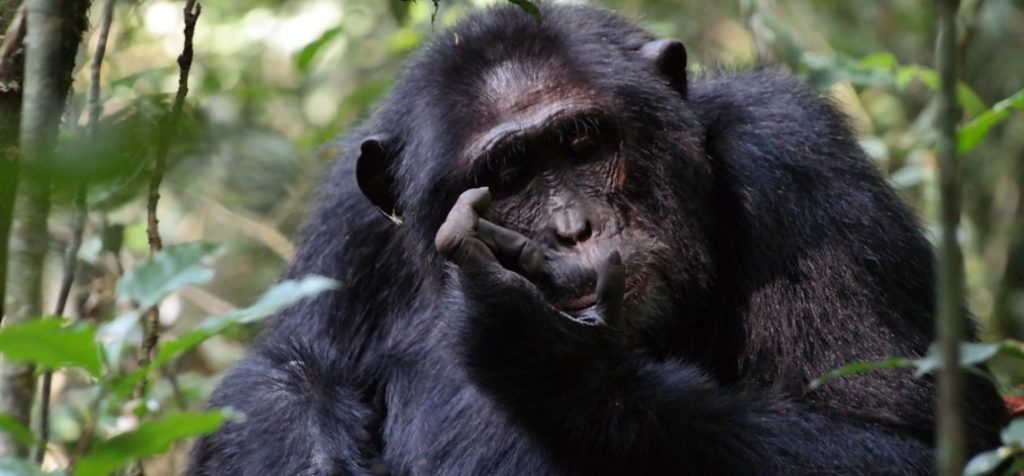 Uganda currently has over 4950 chimpanzees spread out in different locations and the best way to get close to them is taking a chimpanzee habituation safari. While planning for your chimp safari, you can choose between the chimpanzee tracking which gives you 1 hour with the chimps and a chimpanzee habituation experience which gives you access for a full day.
The habituation experiences are available in Budongo forest – towards Murchison and Kibale forest park, Uganda's haven for the chimps. Just the like the chimps, Mountain gorillas also do have a habituation experience as well and can be arranged for.
Getting To See The Chimps During Habituation
It's very important for travelers to note that the chimpanzee habituation experience requires some level of fitness – (The activity is not for the faint hearted)
Items you need to carry along include;
Hiking boots

Rain Jacket /Coat

Insect repellant

Binoculars

Camera

Walking Stick

Daypack

Long trousers & long-sleeved shirt

Hat

Packed lunch and some snacks

Bottled Water
The activity starts with an orientation briefing from the park guides where you will be given enough information and a few rules plus regulations. Most of the people taking on this activity include researchers, trackers, and others that are part of the Habituation experience. The Chimpanzee Habituation Experience aims at getting the chimps used to the presence of humans (to remove the fear of humans from the group). This is a process that takes up to two years – and today you are part of that process by your all day presence in the forest.
Many years ago, the chances of getting to see the chimps were at 20% but today the chances have increased to 90% because of the habituation process. The experience is exciting and you will get to be with the chimps while learning and identifying them as individuals based on their unique features and markings.
BEST TIME TO ENJOY CHIMPANZEE HABITUATION IN UGANDA
Chimpanzee habituation experiences in Uganda are best in the low seasons when there are a few tourists especially in the months of March, April, May and November. With a small group maximum of 4 tourists and a ranger guide, it's easier to get closer to the chimps compared to the larger groups.
The chimpanzee habituation experience in Kibale forest and other places costs US $220 for foreigners, US $150 for foreign residents and US $70 for East African citizens. Bookings for the chimp permits is available at the UWA office however prior booking is recommended.
9 days 8 Nights

Experience an abundance of wildlife and cultural experiences on this Chimpanzee habituation & gorilla Safari. You will definitely get close to nature & culture while in the Pearl of Africa.