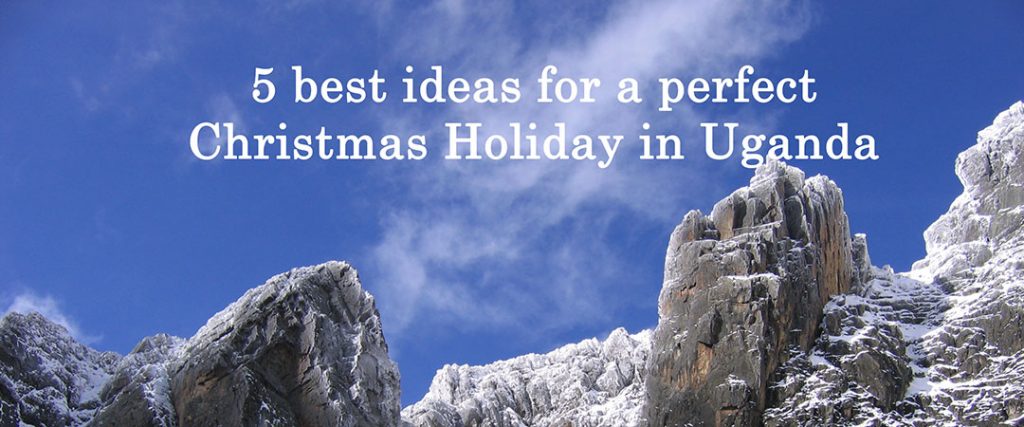 5 Best Ideas for A Perfect Christmas Holiday In Uganda
Christmas is one of the best times of year when everyone gets to celebrate with family & friends. Your Christmas holiday plans could be traveling to the upcountry homes, nearby cities or visiting different continents.
In Uganda, Christmas means going to the villages, decorating houses with Christmas trees, visiting family, and of course having a large sumptuous local traditional meal. Most Ugandans spend their time preparing for this day by planning what to wear, what to eat and where to go. If planning to visit Uganda in December, this is an amazing time since the weather is favorable and there are quite a number of attractions to see. We have come up with 5 best Ideas to help you plan a perfect Christmas holiday in Uganda.
CHARITY GIVING / GIFT EXCHANGE
Giving back to community or to the needy is one of the amazing things you'd do for anyone this Christmas holiday. Uganda has so many orphanages & places which you can visit during this time for charity. Items like food, clothing etc. are acceptable and recommended. Also if planning to visit your friends or family in Uganda, a gift exchange would be nice – carry some nice gifts and be ready to receive gifts as well. This is a better way to celebrate Love & togetherness this festive season.
FOOD + DRINK + PARTY
There are lots of restaurants, hotels and bars you can go to and have a great time during your Christmas holiday. These have a wide range of foods from Local to Italian, Mediterranean, Indian, French and other dishes. Wine lovers are also sorted as Kampala (Uganda's capital city) has many restaurants with good wine. Kampala is also good place to enjoy night-life, over 50 bars you can go to during this festive season and have a great time with friends or family. However, Kids or people below 18 are not allowed to enter the bars but they can visit the restaurants, malls, cinemas etc. Another way to enjoy your time in Uganda is order for a local traditional meal online (Yes there are online restaurants) or visit the local restaurants. Have you tasted the Ugandan Rolex? – One of the best street foods in Uganda. Also there are a number of parties you can attend to meet and socialize with the friendly Ugandan People.
EXPERIENCE CHRISTMAS IN THE WILD
Experience something different for your Christmas holiday by taking a safari to any of the wildlife parks in Uganda. These are located in different parts of the country but the Journey is worth it. Imagine waking up to a bush breakfast in-time for the sunrise, having lunch with amazing views of the scenery and dinner in the wild. All this can be arranged in time for you to have a whole new experience. The best places to visit this Christmas holiday are Murchison falls national park, Queen Elizabeth National Park and Kidepo Valley National Park. All these have amazing wildlife species, and other attractions like rivers, crater lakes and more. But if looking for more adventure, you'd choose to go white water rafting on the Nile or Mountain Gorilla trekking in Bwindi forest.
ENJOY SHOPPING FOR LOCAL ITEMS
During the festive season, there are lots of items being sold out in malls, supermarkets and local markets in Uganda. The items include Clothing, food, beverages, electronics and other amazing things anyone would love to get. Your time in Uganda will definitely be memorable when you visit any of these places to get yourself something to remember (a souvenir). You can also now order online (Yes there are online shopping sites in Uganda) if you are unable to visit the shopping places. Although most people do this shopping in November because of Black Friday – be sure to find something amazing. If you have enough time, look around for some nice Crafts and African Art – you'll love it.
COMMUNITY & CULTURAL TOURS/ SEE THE UGANDAN VILLAGES
In Uganda, most people desert the cities during the festive season and travel to their villages where they grew up from or where their parents originated from. They carry along food, drinks, and other items which will be used in their homes. If you already have friends in Uganda, this is a better chance and opportunity to visit the villages. You can plan to visit their homes and go to church on Christmas day, after eat local food, drink local brews, and experience the real Ugandan village life. However for a first time visitor, such a community visit can be arranged on Inquiry. One of the places our visitors have gone to is the Entanda Cultural Village in Mityana.
Have other interesting ideas about a perfect Christmas holiday you'd love to share with us? Feel free to email us today and we'd be glad to receive this feedback!!
Email; info@greattrekkers.com