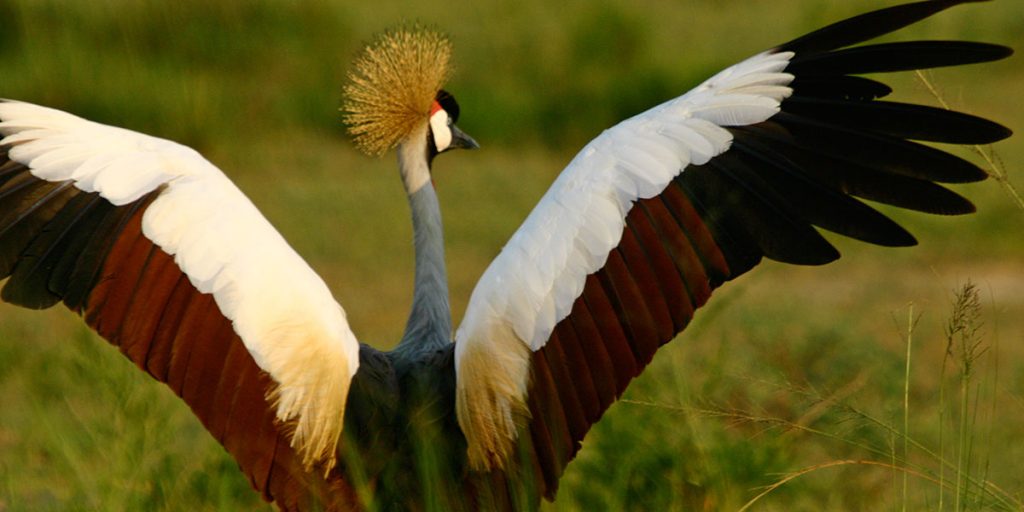 56 Reasons to Love Uganda
The people love Uganda, the visitors also do love Uganda, and those who wish to visit this beautiful country will fall in love with it someday. We came up with a 56 reasons for you to love Uganda.
THE PEARL OF AFRICA – Uganda is gifted with beautiful attractions, nature, people and more. Where else will you see the evergreen environment from one part of the country to another? As described by Winston Churchill – with vast scale of birds, insect, reptile and wildlife, Uganda is truly the pearl of Africa.
INDEPENDENT COUNTRY – Uganda got its independence in 1962 and today (2018), she celebrates her 56th Independence day.
FREEDOM – The country has recovered from the previous years of being under 'strict leaders' to democratic governments with freedom compared to the early years of 1970's.
AMAZING CULTURE – There are so many tribes in Uganda all with different and amazing cultures. This is a reason enough to Love Uganda, from the Karamajong warriors to the Baganda to the Tooro, this country is gifted with culture.
BUSINESS – Lots of businesses both big and small have had a good steady growth in this country. Uganda was listed among the top countries in the world to be the most entrepreneur.
SEASONAL RAINS – You will enjoy rains in Uganda especially in the wet seasons – March, April, May and November. Other months will get a few rains but they are all worth it.
FERTILE LANDS – So many fertile lands in Uganda, making agriculture a leading sector. Farmers will grow most of the items including vegetables, fruits etc. and have them for export or sell within Uganda
GREEN ENVIRONMENT – From the Moment someone lands at Entebbe International airport, you will see enough green and even in Kampala. Most parts of the country are filled with green vegetation i.e. forests, swamps, farms etc.
KIBALE FORESTS – We love Uganda because the primate capital of the world is here. Kibale boosts of over 1450 chimpanzees and 12 other primate species including black and white collobus monkeys.
RWENZORI MOUNTAINS – the Mountains of the moon in western Uganda are an amazing sight and have Africa's tallest mountain ranges.
LAKE VICTORIA – The biggest fresh water lake in East Africa with a number of Islands on it including Ssese islands and provides the best fish in the region.
MOUNTAIN GORILLAS – we love Uganda because it is one of the 3 countries where it is possible to see the endangered mountain gorillas in their natural habitat, in Bwindi impenetrable forest.
LAKE BUNYONYI – a special place with many little birds, Lake Bunyonyi is such a calm, beautiful and lovely place in south-western Uganda
1000+ BIRD SPECIES – We love Uganda because it has over 1000+ bird species located in different parts of the country. Famous ones include Shoebill stock found in Mabamba Swamp.
SHE CRANES NETBALL TEAM – The Uganda netball team is the African Netball Champion and the 6th in the world, Uganda is so much proud of the She Cranes.
UGANDA CRANES FOOTBALL TEAM – The Uganda Cranes qualified for AFCON (African Cup of Nations) recently making it the most ambitious team. The team has represented Uganda for many leagues including CECAFA and many others.
OLYMPIC GOLD MEDALISTS – We love Uganda because of the many Olympic gold medalists starting from Akii Bua, Dorcus Inzikuru, Stephen Kiprotich, Joseph Cheptege and more who have won on International level.
CENTER FOR INNOVATION – Uganda has been a center for innovation for many youths developing apps, systems etc.
ROLEX – THE BEST STREET FOOD – If you have never tested the Rolex, you truly haven't lived in Uganda. This delicious fast food is globally recognized and one of Africa's top street foods.
RIVER NILE – The source of the Nile – world's longest river, is found in Jinja and tours are available to enjoy boat trips or go rafting at the Nile rapids.
BODA-BODA – The fastest way to beat traffic in Kampala is using a motorbike transport means locally known as Bodaboda. Ugandans are also able to order for their boda-boda using an app on their phones
TAXIS – Commonly used means of transport in major cities and very affordable. Normal transport fares to short distances are less than $1 (less than UGX 3000/-)
NIGHT LIFE – There are so many bars, restaurants, night clubs in this region and also international events have come up recently.`
ENSENENE (GRASSHOPERS) – This is a special delicacy for most Ugandans and although this is seasonal, it is among the best snacks. The grass-hopers are prepared (fried) not eaten raw.
BAZUNGU (FOREIGNERS) – People in this country normally refer to the foreigners as bazungu. They tend to give them the utmost care and respect wherever they are since they are considered to be 'rich' or famous.
KINGDOMS – Uganda has a number of Kingdoms including the Tooro Kingdom, Buganda Kingdom, Busoga Kingdom and others. Tours are available to visit some of their palaces like the one in Tooro and the Buganda royal palace.
LOCAL MUSIC – the music scene in Uganda has evolved over a period of time and it's a very interesting and entertaining industry. Uganda has the most talented musicians and most of them have won International Awards like BET Awards, Nickelodeon awards etc.
WAKALIWOOD – If you are looking for an action film locally filmed and acted in Uganda, then you have got to visit the Wakaliwood. Became famous recently and was featured on BBC in a documentary.
JINJA – the adventure capital of East Africa located 80km east of Kampala. Also this is where you will find the source of the Nile and enjoy other amazing activities like White water rafting, Kayaking, bungee Jumping and more.
NILE SPECIAL & UGANDA WARAGI – These two brands are locally made in Uganda by two different companies. Nile Breweries makes the Nile special beer and most people enjoy drinking it while touring the Nile. The Uganda Waragi is made by Uganda Breweries limited and is locally and internationally enjoyed by people. Also Comes in different flavors, Ug Waragi Pineapple and coconut.
CHIMPANZEES – Looking for chimpanzees? You are right to love Uganda because this is where you will get close or have a chance to track chimps. You can see them in Kibale forest or Budongo forest. Other chimps can be seen on Ngamba Island.
MURCHISON FALLS PARK – Uganda's oldest and largest national park with so much wildlife, birds but most especially the dramatic Murchison falls, worth a visit on any Uganda Safari.
KABALE (THE SWITZERLAND OF AFRICA) – The beautiful green terraced Kigezi hills will make you fall in love with this country once more, located in south western Uganda, 6 hours drive from Kampala.
YOUNGEST POPULATION – Uganda has 85% of its population under the age of 35, making it an active country.
FRIENDLY PEOPLE – Ugandans are very friendly and warm people, most of the foreigners or visitors will testify to this.
BEAUTIFUL SUNSETS – Enjoy catching the sunset? Wake up any day in any part of Uganda and you will love catching a glimpse of the sun. The best sunsets have been captured in Kidepo valley national park.
MUCHOMO ON THE ROAD – Ever get on road trip anywhere in Uganda, you will definitely meet a place where they sell 'Meat on sticks' also known as Muchomo. This delicious meat is sold alongside with Gonja – roasted bananas.
EQUATOR – the equator line crosses here in Mpigi and you can have a tour to the place. Some of the things you will feel include a lighter weight effect.
COFFEE & TEA – This country is also a large exporter of coffee and Tea which contribute to the revenue.
CHIPS (FRENCH FRIES) – French fries here are locally known as Chips and they are the commonest fast food served in restaurants along-side other snacks.
TILAPIA FISH – The best fish to enjoy currently in Uganda is the tilapia and it's in plenty.
QUEEN ELIZABETH NATIONAL PARK – famous safari park in western Uganda, with crater lakes, Kazinga channel, Ishasha plains, wildlife, birds, chimpanzees and a lot more.
LAKE ALBERT – Situated in the north western side, the Nile also passes through Albert – Albert Nile to flow towards to South Sudan. Lake Albert is also gifted with Oil.
KAMPALA CITY – Uganda's largest and capital city with an estimated population of over 2.5 million people.
INTERNET & DIGITAL EVOLUTION – You will easily find 4G-LTE internet access in Uganda most especially the major cities and 3G in most parts even the remote areas.
SOCIAL MEDIA – Although they were taxed on a daily, Uganda is a country with a vibrant social media environment. With so many users on Facebook, Instagram, they are now fast approaching to other apps like Twitter & LinkedIn.
PHOTOGRAPHY & FILM – There is a lot of chance and opportunity for photographers and film makers in Uganda. One of the recent locally filmed movie 'Rain' was nominated in prominent African awards and French film festivals.
WILDLIFE – You will be surprised that there is plenty of wildlife in our safari parks including Rhinos, Elephants, Lions, Leopards, Buffalos, Hippos, Giraffes, Zebras, Antelops, Elands, and so much more.
KIDEPO VALLEY – Rated Africa's 2nd best national park, Kidepo is a worthy destination for anyone coming to Uganda for their very first time.
TREE CLIMBING LIONS – The legendary tree lions of Ishasha are an outstanding attraction and a reason for anyone to Love Uganda. Ishasha sector is the southern part of Queen Elizabeth national park in Uganda.
ROASTED MAIZE – Can be bought from the roadsides, markets or you could grab one while on a road trip. It's sweet and incomparable to any road-side delicacy.
PINEAPPLES – one of the best fruits you will ever try out is the Pineapple, produced in plenty in Uganda by local farmers especially in western parts.
MATOOKE (BANANAS) – A staple food for most tribes in Uganda especially Baganda and Ankole
LOCAL MARKETS – Looking to find all the local food in one place, visit the local markets i.e. Owino, Nakasero and Nakawa markets and you will be amazed with the amazing food available in this country.
UGANDA SAFARIS – The best way to enjoy Africa is on a safari and this country has some of the best parks in the region. Common Uganda safaris include gorilla safaris, chimp safaris, wildlife safaris etc.
RELIGIONS – There are so many religions in this region including Christians, Muslims, Hindu, Born-again Christians and others.